Charlotte, NC has fallen into a brief deep chill of 19 degrees. When the weather turns crisp and frosty, my beer of choice is a "winter warmer." To me, these are different than Christmas/holiday ales that most expect when hearing "winter warmer'. These beers are brewed to stay with you the whole winter season.  Many of these beers are big and bold, whiile others are brewed to create a subtle hint of the change in seasons. They may be created with the use of local/seasonal ingredients or they may be brewed using a hop variety right at the end of the growing season. I have found that many of these beers are meant to be shared while others can be savored alone. Winter spices create a warm mouthfeel allowing for a sense of calm while the winter winds blow outside.
Living in NC has given me the opportunity to discover many different styles of winter brews. I have also grown fond of a few that are from other areas of the country. Here are some of my favorites:
Troegs Brewing Company – Blizzard of Hops (6.4%ABV). This has become my favorite seasonal IPA. Once I opened the can there was a wonderful piney-almost spruce like aroma. I love when an IPA has a resiny mouthfeel and leaves you with a spicy aftertaste. The subtle hint of citrus comes out on the first sip. This IPA is wonderful after a along day at work.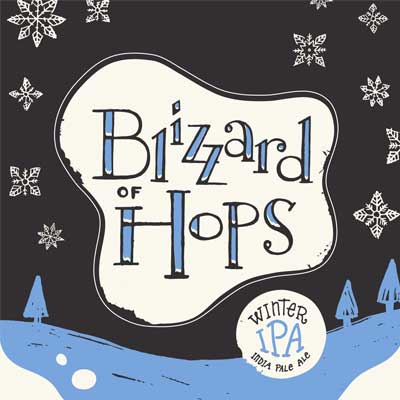 Burial Brewing Co – Donut Skillet Stout (8% ABV). Burial Brewing is from Asheville, NC. When the cans arrive in Charlotte, I send Hubs on a citywide mission for our 4 pack. This stout pours black in color and automatically the roasty/toasty aroma of coffee comes out. As the glass warms the sweet and almost yeasty taste of the donut comes through. On a cold morning this would be a perfect breakfast beer.  What I love about this brewery is they believe local/seasonal ingredients are the best.
Mother Earth Brewing – Silent Night (9%ABV). While Hubs and I were having a weekend in Raleigh for my birthday, we visited State of Beer bottle shop. There on the shelf, corked and caged was a bottle of Silent Night. The art work on the bottle automatically makes one think of a dark and snowy night.This imperial stout to me was/is perfection.  s soon as this beauty was poured there was an instant aroma of coffee, vanilla and chocolate. Once sipped, the delicate taste of bourbon comes forward gently warming the palate. I even tasted a subtle hint of stone fruit. So rich and robust, this stout is a true joy to drink and share. Mother Earth has knocked this one out of the park. 
---
I asked the crafty ladies of Stouts and Stilettos what their favorite fireside beers were and here's what they said:
Sonora Bostian-Posner: thinks that Anderson Valley Winter Solstice is "top notch."
Amanda McGrory-Dixon: is waiting for the release of her favorite barley wine Firestone Walker Sucaba.
---
With winter sometimes feeling like the longest season don't be afraid to fine a new favorite winter warmer of your own. Open it, smell it, and share with someone on a cold evening at home.
Cheers and stay warm!